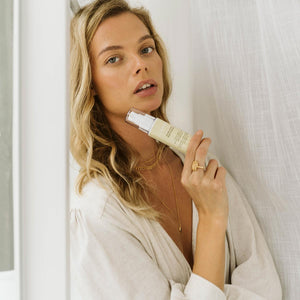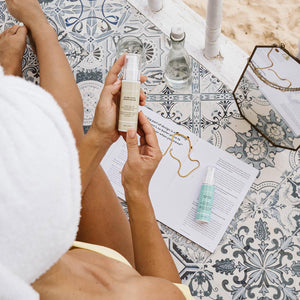 Regular price
Hydrating Moisturiser
---
A must-have, daily moisturiser that nourishes, brightens and rehydrates your skin. This deeply moisturising lotion is rich in all the ingredients your skin will love, including Hyaluronic Acid (vegan), Native Australian Desert Lime and Green Tea. These ingredients work together to keep your skin feeling refreshed and dewy.

This ultimate hydration product is beautifully enhanced with Rose, Blood Orange and Ylang Ylang essential oils.

Suitable for all skin types, including sensitive skin. Particularly beneficial for problematic dry and dehydrated skins.
Contains no preservatives, SLS or artificial ingredients.
    Vegan


    Cruelty-free


    No parabens / SLS or nasties


    Australian handmade
Key Benefits
    Hyaluronic Acid
Hyaluronic Acid is found naturally in our skin but decreases with age and sun exposure. It has an extraordinary capacity to bind and retain water in the skin and is proven to reduce the appearance of wrinkles and fine lines. It is the ultimate hydrating agent, leaving your skin feeling dewy and smooth.


    Native Australian Desert Lime
An amazing Indigenous ingredient rich in Vitamin C and many other antioxidant compounds that protect skin and reduce visible ageing.


    Green Tea
Rich in Vitamin E, Green Tea is also a source of antioxidant, anti-inflammatory and antimicrobial nutrients that treat red and acne-prone and irritated skin.


    Rosehip Oil
With essential fats plus loads of Vitamins A, C and E, Rosehip Oil protects your skin cells against harmful free radicals. Rosehip Oil is also recommended for repairing damaged skin and reducing scars and fine lines.


    Jojoba Oil
Did you know that Jojoba is actually a wax that closely resembles the sebaceous wax that your skin makes?
Its ability to carry moisture and nutrients deep into the layers of the dermis is unparalleled. Regular use of Jojoba will keep your skin looking youthful and radiant.
Usage
HOW: Apply with fingertips to your face and neck, gently working the lotion into your skin. Avoid getting it too close to your eyes.
WHEN: Morning and night and /or directly after using a mask.
Ingredients
Aloe Barbadensis Leaf Juice, Rosa Eglanteria (Rose Hip) Oil*, Coco- Glucoside, Stearic Acid (Vegetable Derived), Glyceryl Stearate (Vegetable Derived), Sodium Hyaluronate (Hyaluronic Acid), Glycerin*, Cucumis Sativus Extract, Citrus Glauca (Desert Lime)*, Xanthum Gum, Cetearyl Alcohol (Coconut Derived), Camellia Sinensis (Green Tea)*, Teriminalia Origanum Vulgare Oil, Thymus Vulgaris Extract, Olea Europeia Leaf Extract, Rosmarinus Officinalis Leaf Extract, Lavandula Angustifolia (Lavender) Flower Extract, Citrus Sinensis (Blood Orange) Oil, Cananga Odorata (Ylang Ylang) Oil*, Rosa Damascena (Rose) Oil* - * Organic Ingredients