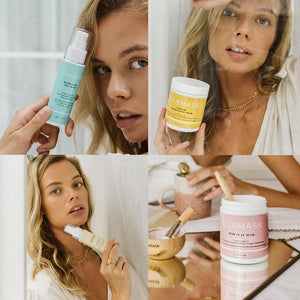 Regular price
Home Spa Glam Pack
---
For the full day spa experience without leaving the comfort of your own home, our Home Spa Glam Pack has everything you need.

STEP ONE: Light some candles, brew your favourite herbal tea, put on some relaxing tunes and put the phone on silent.
STEP TWO: Apply each of our masks in-turn, beginning with the Australian Pink Clay Mask followed by the Enzyme Exfoliating Mask and finishing with the Hydrating Gel Mask. Allow each mask to sit for 15 minutes or so before washing off and applying the next.
STEP THREE: Complete the treatment with the Hydrating Moisturiser.
Your skin will be looking and feeling the best it's ever been - super bright, glowing and healthy.

Save 20% on each product when purchased as a bundle.