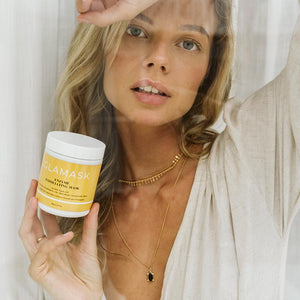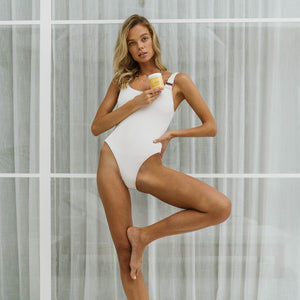 Regular price
Enzyme Exfoliating Mask + FREE GIFT
---
Order this product today to receive a FREE Glamask Bamboo Bowl, Mixing Spoon & Brush! This gift will not display in the cart at checkout but will be included in your package. 
A revolutionary scrub-to-mask blend that uses Raw Oats, Coconut Powder, Pineapple and Papaya to gently buff away dead skin cells and stimulate the regeneration of new beautiful glowing skin.

Suitable for all skin types, including sensitive skin. Particularly beneficial for oily, blemished or problematic skin.
Glamask clay face masks come in their natural powder form and are activated instantly with a small amount of water.
Contains no preservatives, SLS or artificial ingredients.
    Vegan
    Cruelty-free
    No parabens / SLS or nasties
    Australian handmade 
Key Benefits
    Raw Oats
At Glamask, we believe you should never use on your skin something you wouldn't be prepared to eat. What better than wholesome raw oats to gently exfoliate the skin. Oats are also packed with antioxidants and anti-inflammatory nutrients.
    Pineapple
The bromelain enzyme from pineapple helps remove dead and damaged skin cells. Pineapple is also anti-inflammatory and will help soothe sensitive and inflamed skin.
    Coconut Powder
A natural source of good fats, coconut helps skin stay hydrated, supple and youthful. It's also handy for minimising pores, balancing complexion and enhancing skin elasticity.

    Papaya
High in Vitamins A, B and C, and rich in antioxidants and enzymes, Papaya helps to manage skin break-outs and reduce the appearance of lines and wrinkles.
    Kaolin Clay
Kaolin is ideal for oily and sensitive skin. It draws out the oil, dirt and impurities that can cause pimples and acne. It will also balance oiliness and skin tone.
The power of powder
Each 90g tub can make about 20 or more clay masks, depending on how thick you like your masks to be.
Dry clay masks will change the way you think of masks. Having our formulas in their natural, powdered form allows you to easily activate a small amount of mask as you need it. No more half dried-up or crusty tubs. It's like having a brand new mask every time. Plus, those whipped and creamy clay masks are all packed with nasty stuff to preserve them - that's not what we're about.
Usage
HOW: In a small bowl or the cup of your hand, mix the desired amount of powder with a little water to form a loose paste. Apply to the face and neck in circular motions to buff away dead skin and deeply nourish the complexion. Allow it to sit 5-10 minutes before rinsing off with water.
WHEN: Glamask Enzyme Exfoliating Mask is gentle enough to use 2-3 times weekly.
Ingredients
Avena Sativa (Oat) Kernel Flour, Cocos Nucifera (Coconut Milk) Powder, Kaolin (White Clay), Oryza Sativa (Rice) Powder*, Carica Papaya (Papaya Powder), Ananas Comosus (Pineapple Powder) - * Organic Ingredients